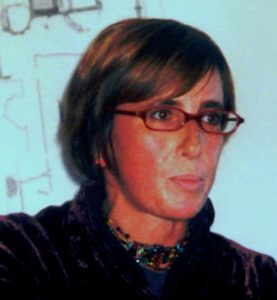 Lorenza Perini è Ricercatrice presso il Dipartimento di Scienze Politiche, Giuridiche e Studi Internazionali (SPGI) dell'Università di Padova dove insegna Politiche di Genere (lauree tirennali) e Gender, Politics and Globalization (lauree magistrali). Laureata in Storia Moderna, ha conseguito un dottorato di ricerca in Storia Contemporanea (Università degli Studi di Bologna) e un secondo dottorato in Pianificazione urbana e politiche pubbliche urbana (IUAV, Venezia); ha studiato presso UC Berkeley, USA conseguendo un master in Women's Studies. Fa parte del CUG di Ateneo e del Centro di ricerca interdipartimentale di studi regionali (CISR).
Centri di ricerca
Collabora alle attività del centro di ricerca interdipartimentale di studi regionali (CISR)
Collabora alle attività del centro di Ateneo per gli studi e le culture di genere "Elena Cornaro" (CEC)
Fa parte dello standing group della SISP su "politica e genere"
Fa parte del Comitato Unico di garanzia dell'ateneo di Padova (CUG)
Progetti di ricerca
2019-2021 Progetto Unicity sulla relazione università-città – responsabile della linea di ricerca 2 – flussi di studenti  e traittorie territoriali (resp. Prof. Patrizia Messina) – (finanziamento di ateneo)
2019-2020 Progetto Fami  – Next to me- sull'housing sociale (capofila Comune di Padova) (finanziamento nazionale).
2019- AGA PROJECT (Advancements in Gender Awareness) (2019-2020) resp. Prof. Carlo Ferrari (DEI, UNIPD)  to foster gender awareness in young girl students and encourage them to choose Scientific Disciplines.
Progetto H2020 Act on Gender- Community of Practice to enhance gender equality at universities https://www.act-on-gender.eu/
Pubblicazioni (2018-2019)
In press Perini L., On the road again: the political consequences of rape twenty years after the Bosnian conflict, in Europa e futuro. Genere sicurezza culture, Palermo University Press
Perini L., "I completely changed my mind-set". Syrian refugee women in displacement: camps as urban settings for a new empowerment? in Krase J. et al., Gentrification around the World: Gentrifiers and the Displaced, I, Plagrave Mc Millian
Boccuzzo G., Manganelli AM, Perini L. Methodology of a System of indicators on Gender Equality: the case of the University of Padua, Social Indicators research, Springer
Boccuzzo G. Manganelli AM, Perini L., Measuring GE in academia: the Unipd case, Gender, Work and Organization (Wiley)
Perini L.- Carbone F., Una città ad università diffusa. Il caso studio Padova e l'area metropolitana del Veneto centrale, Atti del convegno AISU, Associazione Italiana di Storia Urbana, Bologna 2019
Articoli pubblicati
Degani, P., Perini, L. (2019) The Italian Public Policies Frame on Prostitution and the Practical Overlapping with Trafficking: an Inevitable Condition?, Peace Human Rights Governance, 3(1), 35-68.
Perini, L. (2019), Appunti per una cronologia dei diritti, in Curcio A. (a cura di), Introduzione ai femminismi, Roma, Derive/Approdi, p. 89-102.
Perini L., (2019), Practicing the Alternative. The Impact of the Crisis in Latin America through a Gender Perspective Analysis, Femeris,  Vol. 4, No 3, 2-28. https://e-revistas.uc3m.es/index.php/FEMERIS/article/view/4923/3508
Perini L, (2019), Harassment in Academia: understanding the problem, #WeTooInScience – Molestie sessuali nell'università e nelle istituzioni di ricerca, (a cura di)  Sveva Avveduto, Silvana Badaloni, Claudine Hermann, Lucia Martinelli, Giuliana Rubbia, Monica Zoppè,  Roma IRPPS-CNR,  121-139 http://irppsepub.altervista.org/ojs/index.php/mono/article/view/978-88-98822-17-1/pdf
Perini L. (2019), Abitare la città. Il ritorno alla casa prigione, in Lavoro e lavori delle donne: the globalizzazione e politiche neoliberiste, Effimera, http://effimera.org/wp-content/uploads/2019/03/EFFIMERA-EBOOK-lavoro-e-lavori-delle-donne.pdf
Perini L., (2019), La cucina e le politiche che contiene. Ruoli e stereotipi nella/della casa contemporanea, in Del Re, A. Morini, C. Mura et alii, Lo sciopero delle donne. Lavoro, trasformazioni del capitale e lotte, Roma, Manifestolibri, p. 87-96.
Perini L. (2019), La parità introvabile. Utopie del policy making nell'Italia dei comuni. Il caso delle elette in Veneto (2012-2017), in Carbone F.- Farina F., La partecipazione politica femminile tra rappresentanza formale e sostanziale, Milano, Francoangeli, p. 85-105.
Perini L., (2019) "We should all be feminists": a strategy for the new millennium? The study case of the UN Women "HeForShe" campaign, in Wagadu: A Journal of Transnational Women's and Gender, 2019 http://webhost1.cortland.edu/wagadu/
Perini L., (2018), The feminist movement in a media-centric society, in pubblicazione in Gentes, V (2018)  https://www.unistrapg.it/it/ricerca/university-press/gentes-rivista-di-scienze-umane-e-sociali
Perini L. Castegnaro, L. (2018), Gender Equality in EU Cooperation and the Case of the Cotonou Agreement, REYONO, Journal of Interdisciplinary Studies, vol.2.2, 2018 http://www.stthomascollege.info/reyono.php
Badaloni S.- Manganelli A. – Perini L., (2018) Thinking with indicators?, in Murgia A.- Poggio B. (a cura di), Saperi di genere. Prospettive interdisciplinari su formazione università lavoro politiche e movimenti sociali, Università degli studi di Trento, Ebook, Trento University Press, p. 484-494 http://events.unitn.it/sites/events.unitn.it/files/download/saperidigenere2017/E-book_SaperidiGenere_def%20(2).pdf
 Perini L. (2017), Gender Equality: Can Research support a responsible policy-making process? The case of the Gender Equality Index, RRI-SIS2017, Springer – SpringerBriefs series, February 2018, http://www.apre.it/media/495875/marinazine_02_issue.pdf
Perini L.- Badaloni S. (2017), The influence of the gender dimension in human-robot interaction, in Proceedings of the 4th Italian Workshop on Artificial Intelligence and Robotics. A workshop of the XVI International Conference of the Italian Association for Artificial Intelligence (AI*IA 2017), http://ceur-ws.org/Vol-2054/paper9.pdf
Paper presentati in convegni
Perini L. , Storti, G, (2018), Cercando casa, emergenze abitative e nuove povertà in una città del "Nord Est produttivo": il caso di Padova; Paper presented  in "Territori mobilità lavoro", convegno nazionale FISSPA, Padova, 22-23 febbraio, 2018
Perini, L. (2018), When something goes wrong. The study case of the UN Women "He For She" campaign and other stories of misunderstanding, ECREA, Lugano 2018, paper accepted (n. E18-0073)
Perini L., (2018), No one leaves home unless home is the mouth of a shark. The Syrian war and the UN urban settlement for  refugees, Paper accepted at  IPSA World Congress of POlitical Science, Brisbane (AUS), July 22-24, 2018
Perini L, (2018) Badaloni S., Gender equality indicators and comparability, paper accepted at the 10th GEHE International conference, Dublin 22-24 August, 2018
Perini L,  (2018), The wonderful world of "mother against something" groups: from practice to policies. The case of the Veneto region, paper accepted in VII STS International Conference, "Citizen Science from Below", Padova June 14-15
Perini L. (2018), "La città è della gente!": scritti femministi sull'uso dello spazio urbano. Paper accepted in Giornata di Studi Iaph Italia La libertà è una passeggiata. Dalla sicurezza alle pratiche di autodeterminazione, Roma 3-4 maggio 2018
Perini L. (2017) (a cura di), Lo stato di salute delle pari opportunità negli enti locali, numero speciale di "Ingenere. Dati, politiche, questioni di genere", Rivista della Fondazione Giacomo Brodolini, http://www.ingenere.it/dossier/stato-pari-opportunita
Perini L., (2017), The gender historician, in Ackerley K., Guarda M. and Helm F. (eds.), Sharing Perspectives on EMI, New York, Peter Lang
Perini L., (2017) Teaching in a gender perspective, in Gender and Politics: research, practice and education. Moving beyond the obvious, "Italian Political Science Review", 11 (2016).